Is there a way to tell good and bad music labels apart? How can you tell if a record label is legitimate?
Every musician and music producer, after writing and perfecting a song for weeks, wants as many people as possible to listen to it, and why not, buy it!
On Groover, the music promotion platform that Soonvibes is part of, you can directly contact some of the best music labels and get a guaranteed response in less than seven days—and these are some of the heavy hitters, like Electro Posé and Chinese Man Records. We encourage all members to grow alongside labels, but you still need to take a step back, be careful, and get a base level of knowledge to sign with a record label.
1) What is a music label, and what are they good for?
According to the dictionary definition, a music label is a company that sells music. More specifically, they produce, edit, and distribute recordings made by artists.
Among these record labels, there are the multinational giants (Universal Music, Sony Music, Warner Music, etc.) that you'll hear about the most, and then there are plenty of independent record labels that distribute music in the rest of the market. These are the ones you'll most often find on Groover and that are most likely to help your musical project take off. You can also check out the list of all the record labels available on Groover right now.
We know our community, and we know it feels great to be contacted by a company asking you to sign. But what does "signing" mean? When this word is used, it means "to sign a deal for recording, production, distribution, and promotion."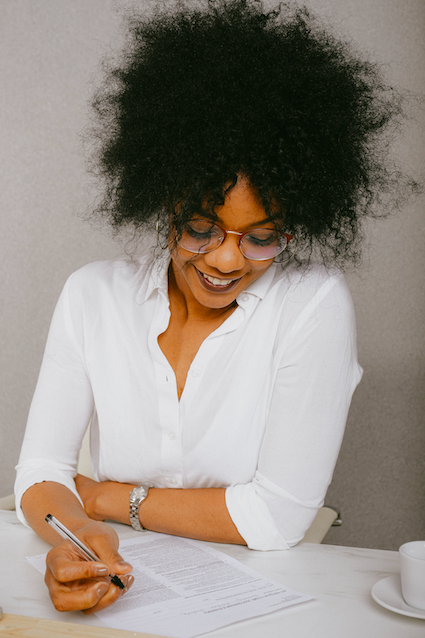 Signing with a record label doesn't automatically mean success!
There are different types of music businesses that could be under the umbrella of the term "label," and they offer different services. Some mostly take care of the distribution of your title, while others may go as far as to book tours. You'll need to take a close look at your particular needs and check the contract thoroughly before signing with a record label. Additionally, keep in mind that, as with many types of contracts, you can negotiate the conditions.
What should you expect from a music label? It's crucial that they have a strong ability to communicate, a network that can help you take off. If the record label just posts your music online without performing any other services, then it's just playing the role of a music aggregator like Zimbalam or CDBaby (see our article on online music distribution). A record label should support and boost your musical project, or else it's just another intermediary. In that case, as the saying goes, "It's better to go it alone than in bad company."
It's better to be on your own than with an "average" music label
Often, when a label signs one of your songs, it means you can't sell it anywhere else. This is because of a clause in the contract that gives the label exclusive rights. If you think one of your songs has potential, then it's a shame to waste it by signing with a record label that isn't worth it. If you sign with just any label, then you're depriving yourself of the opportunity to sign with a more prestigious one down the line. Don't rush in the first chance you get without a second thought.
If you want to distribute your music on streaming platforms, then do it yourself rather than going through a record label that will take a big commission. For example, Tunecore is a great choice for independent artists. It lets you keep 100% of your royalties and your songs will be available on all streaming platforms.
However, if it's a label with a good reputation, then you've got every reason to sign your song. But unless that's the case, stay independent!
2) What abilities does a good record label need to have? What behaviors are red flags?
If you're dealing with a good record label (big or small, but especially a growing label), then the people taking care of you will have skills in marketing, webmastering, graphic design, music, business management, communication, etc. A record label like this sorts its artists, works hand-in-hand with them, tries to get the best results, makes an effort in communication and in promotion of new releases, has relationships with editorial organizations (magazines, webzines, TV, radio, etc.), and knows other artists who can add your songs to playlists. It's not everything to have the "perfect song," you've also got to know how to make people find it. To find out more, check out our article How to Get your Song on the Radio ?
When it comes to the behavior of a label, there are certain red flags. For example, I found someone who got this type of message (which I'm paraphrasing), definitely an example of a sketchy offer:
"Hello,

I am L, General Manager of the label "xxxxx." I heard your music, and I am interested in publishing it on Beatport, iTunes, and other worldwide platforms. So, if you agree, I'll send you the contract, so that you can sign with us for a year non-exclusively, meaning you can publish your songs with other labels.

The only cost you'll need to pay is for the mixing, mastering, and graphic design to publish your EP, which will cost $80.

Looking forward to hearing from you.

Cheers." Example of a message to toss in the trash
The original text was full of mistakes, totally unprofessional for a real company. Be careful of amateur-seeming labels.
If they ask you for money, then it's a scam. If a label wants to make money distributing your music, then they will bet on you by paying the costs. You definitely don't need to pay any advances.
If a record label is only offering to distribute your music on popular distribution platforms, they're just playing the role of an aggregator. You can do it yourself without going through them. They're just a useless middle man.
This is just one example among many, but keep in mind: a legitimate label won't ask you for money to distribute and promote your song. Other red flags include:
If the record label doesn't have a list of artists—everyone starts somewhere, but be careful.
It's a small organization with many different music genres.
The label pushes you to respond urgently—for example, "You have 48 hours to give your response."
On the internet, there is some debate about the percentage a label can take on a song. It's hard to say whether a label that takes 50% of sales is sketchy or not. The percentage doesn't really mean much—what counts is what goes on behind the scenes. Imagine: one label offers you 5% on your music but also organizes a nationwide promo tour, worldwide distribution, and TV/radio appearances. Another offers you 50%, but will sell your music for $500 altogether. Which would you choose?
Some say legit record labels never offer more than 20%, which may seem small, but sometimes a label will invest much more on the promotion than the production cost of the song. That's a number that needs to be kept in mind during negotiation, and that changes case by case. That's why, above all else, you've got to do your research!
3) How can you check a record label's legitimacy online?
Don't get stars in your eyes the moment you hear the word "label." The best way to verify a label's credentials is to look at their reputation on the internet. Check out what they've already done, their prestige, the quality of their songs, any current events, etc. So, the first thing to do is google their name and see what's being said about them. Then, verify a few things:
– If the record label contacts you, make sure they're not trying to sign too many artists at once by looking at the comments.
– If the label exists legally, if they have a SIRET/SIREN or other business registration, then you can find information about their revenue in public databases online.
– Which artists have they produced, and did they have good sales? It shouldn't be hard to find this information.
– Do they communicate online about their artists (at least on social media, if not in magazines or on TV/radio etc.)
– Look at the quality of the website, the number of followers/likes on their Instagram, likes on Facebook, views on SoundCloud and YouTube, etc. Watch out though, because certain businesses buy Facebook and Twitter followers, so also check the activity (likes, comments, retweets, etc.)
– Check whether they're on Beatport, they choose the labels who publish songs on their platform.
– Check the contract and negotiate if necessary (Organizations like SACEM can help, don't hesitate to contact them).
If you sign one of your titles and feel like you've been scammed, then you may have the right to withdraw. Look into the relevant contract law for your region.
4) How to contact the right record label?
You can use Groover to contact the record labels, media outlets, and music industry pros and get a guaranteed response in less than seven days.
Most importantly:
Listen to as much music published by the label as possible.
You'll need to make sure your label perfectly matches their style.
Record labels too often get too many submissions that don't match their musical style, so it gets thrown away immediately.
Another error to avoid: test your music before sending it!
Don't skip steps. You need to have music that's original as well as technically, artistically, perfect. So, if your music isn't perfect, you'll have a hard time finding a good record label.
Feedback from your friends and fans isn't objective because these people already know and like you. Ask for the opinions of people you don't know. Don't hesitate to seek feedback from professionals directly on Groover.
Have you already signed with a record label? What did it do for you? Have you had any good/bad surprises?
We hope that this article will help you take a step back on the question of signing with a record label. There's no need to be afraid of it; the cases we've discussed here are the vast minority. Additionally, we hope to encourage you to think about what kinds of services really interest you. There are a lot of independent record labels managed by passionate people who do great work and have connections that can seriously help your musical project lift off. In that case, our advice: go for it!
—
We also recommend this article on how to get a record deal as an independent artist.
—